Review: Maybelline's Eye Studio Lasting Drama Gel Eyeliner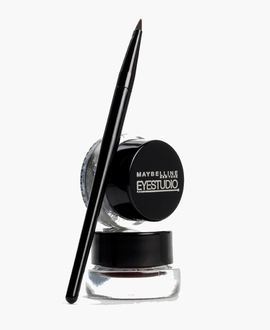 Maybelline's Eye Studio Lasting Drama Gel Eyeliner
in
Blackest Black
is very creamy and super gentle when applied to the lids, not to mention the brush is definitely a great add in as well. I remember when I first bought the L'oreal Hip Gel Eyeliner, the tiny brush that came with it was super stiff and horrible, but this brush is more flexible and it can be use to fling your winged eyeliners and such.
Would I repurchase this product again?
Yes, I really want to
eggplant
. In terms of staying power, I have really oily lids, so when I had this on the other day, it lasted a lot longer than I thought (although I don't remember how many hours, definitely not 24 though because I could tell part of the liner was fading). I'm sure if you apply an eye primer base or your concealer, it would last a very long time. I took this picture right after I bought the product because I was so excited to try it since it had so many wonderful reviews and it does look pretty good. Although it's suppose to be
Blackest Black
, I really don't think it's the darkest black I've seen, but the color is very buildable to create the intensity you like. It does take a couple of minutes to dry, but overall, I think it's a very good eyeliner for the price of ~$8.00+ and yes, I would recommend it to a friend.
Have you tried this product? What do you think?